Payment Methods
Confirmation of booking is only valid upon email receipt.
 Note: Banking transfer costs is charged to the customer
Payment can be made:
a) Paypal
PayPal uses existing financial infrastructures of bank accounts and credit cards, and acts as the only intermediary between the Buyer (You), and the Seller (Sera.Nata Apartments).
Note: when the money comes from a debit or credit card to our paypal account the sender pays the fee. 
This is what makes PayPal the most trusted online payment system.
Paypal acount: This email address is being protected from spambots. You need JavaScript enabled to view it.
Name: Giovanekos George / Serafeim Anastasia
 b) Bank transfer
A bank transfer can be made to the following bank: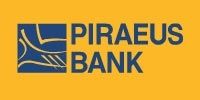 | | |
| --- | --- |
| Bank | Piraeus Bank |
| Account Number | 6406-140752809 |
| IBAN Number | GR09 0171 4060 0064 0614 0752 809 |
| SWIFT/BIC | PIRBGRAA |
| Account Holder | Serafeim Anastasia |
c) Western Union
Money transfer through Western Union can be sent to:
| | |
| --- | --- |
| Name | Serafeim Anastasia |
| Address | Nikiti Halkidiki, Greece |
| P.C. | 63088 |